I go through phases of really enjoying crocheting (usually in the cooler months) and recently I have been wanting to start a project, but I think it's going to have to wait until the kids are back in school. Not that I can't browse for patterns right now. I most often get patterns from
crochetpatterncentral.com
for free or purchase ones from etsy. After a quick browse through the crochetpatterncentral website (which is a GREAT resource but pretty tedious to click through) these are some of my favorite finds.
Legwarmers
Cardigan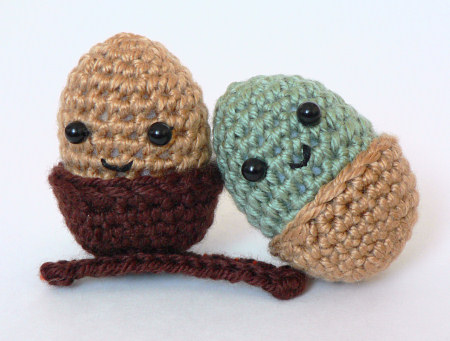 Acorn amigurumi
And here are some of my etsy favorites…
I want an orange crochet octopus in my life
This hood is JUST my daughter's style
Ravelry.com
is also a huge resource for patterns, though for some reason I often forget to look there.
I subscribe to Crochet Today but I have never made anything from it. I don't know if it's the colors they use, or the styles, but I'm not really drawn to their patterns. Anyone else feel like this? Care to share some crochet pattern resources??